WELCOME TO RUBY & BEAR
Hi, I'm Fi, Mum to a beautiful daughter, a wife, and a lover of idoor plants and animals.
Since 2017, Ruby & Bear has poured love and attention into 𝒉𝒂𝒏𝒅𝒄𝒓𝒂𝒇𝒕𝒆𝒅 bows and accessories. 
Each Ruby & Bear piece is made with 𝒄𝒂𝒓𝒆, by me, in my home studio on the rural outskirts of Christchurch, New Zealand, for you and your little loves to enjoy.
Through Ruby & Bear, my desire is to bring smiles through 𝒄𝒂𝒓𝒆𝒇𝒖𝒍𝒍𝒚 𝒄𝒓𝒂𝒇𝒕𝒆𝒅 𝒂𝒄𝒄𝒆𝒔𝒔𝒐𝒓𝒊𝒆𝒔, and warm, friendly service.
If you'd like to chat about wholesale, or would like something custom made, please touch base.
I truly hope you all love Ruby & Bear as much as I love making things for you.
𝑭𝒊 𝒙𝒙
TOUCH BASE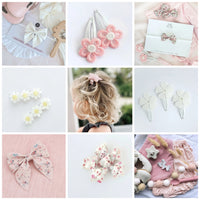 WE'RE ON INSTAGRAM
Be in to win $25nz Ruby + Bear store credit.
Simply tag your @rubyandbearnz pretties on Instagram, or reveiw Ruby + Bear on Google or Facebook, and you're in the draw.
FOLLOW US
Testimonials
Thanks Fi,

I won't get my bows from anywhere else, your bows are beautiful and you always go our of your way.

I appreciate you!

Louise
Huge fans of Ruby and Bear in this house!

My daughter loves the fun designs and gorgeous colours, they are always the first accessories she reaches for! 

As a mum, I love the original designs, affordability, huge range and quality workmanship. Plus supporting a local run-by-mum business adds a great 'feel good' feeling.

Definitely my first choice too!

Lorie
I have purchased accessories from Ruby and Bear for my daughter and also as gifts. They are great quality products and the girls love them.  Fantastic customer service and such a great range it's hard to choose!

Sarah T
Absolutely gorgeous bows and clips! So many to choose from. I want them all!

I love how Ruby and Bear cater for smaller/less hair with smaller clips/claws.

They all come beautifully packaged and I definitely would not hesitate to buy them as gifts for wee girls, and wouldn't be able to stop myself from ordering extra for my girls!

Ordering and delivery is hassle free and fast. Fi is just lovely and so accommodating. Thanks so much.

Louise
We have had several bows from Ruby and Bear which we love, but our absolute favourite was our custom made for our daughters 1st birthday.


Lots of selection of glitter to choose and made to order, carefully wrapped ready for collection. Easy to pay and made in great time for her party!

Katy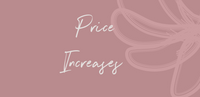 PRICE INCREASES
Unfortunately, due to continuously increasing costs, we will be increasing the prices on some of our items over the coming weeks.
Thank you for your understanding,
Fi